In remanufacturing, a product must be disassembled in order to reuse its parts in another production cycle or in the construction of the same product
Remanufacturing is an important business model for the circular economy because it succeeds in extending the useful life of components of a product that would otherwise be considered waste. In the Italian market, it is better known as remanufacturing a product and works perfectly in mechanical or automotive components.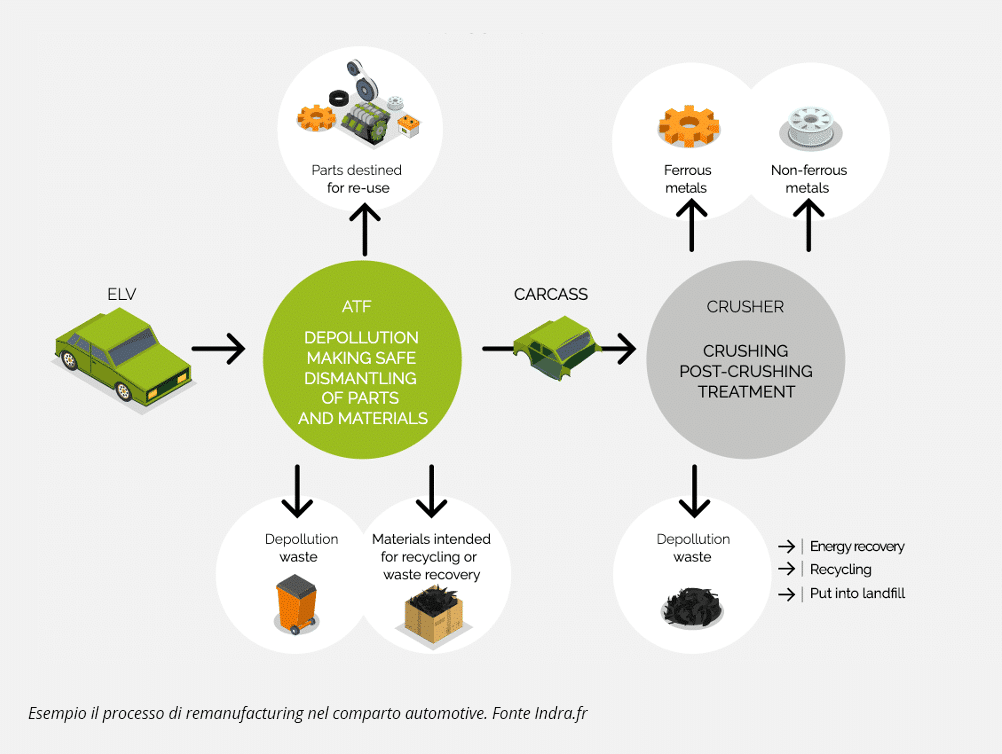 For example, a vehicle that has reached the end of its cycle, before being scrapped, can turn out to be a real gold mine for remanufacturing companies that, by reusing components that are still in good condition, are able to remanufacture defective parts giving them a second life. The remanufacturing of motor vehicle parts enables the reuse of still-functioning parts that would otherwise be destroyed. In fact, engine parts, clutches, calipers, brakes, injection systems and tires can be recovered thus re-entering a new production cycle thanks to the "remanufacturing" process. In practical terms, starting from an existing spare part – referred to as a carcass – useful parts can be obtained to make a failed or defective original part of a car or truck efficient again. Compared with making a component from scratch, both economic and environmental savings can thus be achieved. In the automotive sector, this savings can be quantified as an 88% decrease in virgin material used, a 56% reduction in energy requirements, and up to a 53% reduction in CO2 emissions into the atmosphere. The remanufactured parts are tested thus receiving a warranty certificate, and the result is thus a product that can guarantee performance equivalent in every way to the new one. In essence, this is a circular economy model based on recycling that more and more companies are looking at with interest.
The importance of a new business model such as remanufacturing
A company, to really succeed in becoming a "remanufacturer," must completely overhaul its business model through the guidelines of tools such as the Circular Business Model Canvas. Companies today that want to do circular economy by applying remanufacturing are faced with trying to recover and remanufacture products that were thought of years ago, have been on the market for years, and were not designed with an ECODESIGN thought out for their future reuse. This condition can make a standardization of a remanufacturing process difficult, sometimes prompting companies to specialize in niche sectors, giving rise to innovative, high-tech networks, and launching new markets for reconditioned products, arranged to extend the useful life of the final product. Reasoning instead on the new design of circular products, a very interesting horizon opens up, full of potential: if I have to design something new, I will do it by providing for demanufacturing and remanufacturing, so that the final product is predisposed to be easily disassembled, thus creating industrial supply chains certified by the initial manufacturer, ready to be able to recover these products.
It is therefore essential to adapt one's business model to the concept of the circular economy, so that it is no longer focused on maximizing sales by putting obsolescent products on the market that can be easily replaced by new ones, but that it already includes a sector of its production that recovers, disassembles and reconditions product components with a view to reusing them. It is apparent that the circular business model of PRODUCT AS SERVICE is integrated with that of remanufacturing, because the product remains the property of the person who built it by selling only its use and service that distinguishes it, recovering it at the end of its life to recondition its parts. Remanufacturing and subsequent reuse of parts help companies use materials and energy more efficiently in manufacturing. Remanufacturing and reconditioning programs enable customers to maximize the integrated value of their assets brought to market in several ways:
Garantendo la By ensuring maximum productivity;
By increasing equipment reliability and uptime;
By guaranteeing cost-effective performance;
By offering a warranty identical to that on new products;
By increasing the customer's return on investment;
By providing the customer with a wide range of repair options to meet their service requirements;
By providing the customer with a higher resale value;
By offering the lowest operating costs and total cost of ownership;
Preserving most of the energy and materials needed to make the original component or machine;
Thus, remanufacturing is a business model that is being developed in large companies producing complex and expensive machinery that needs a long period of use to be competitive in the market, such as Caterpillar, which has an advanced remanufacturing model for its machinery components that is already largely integrated into its corporate policy.
To have the Circular Guide always at your fingertips:
To have the Circular Guide always at your fingertips: 
Download Unit 4.1 (to download the pdf you must subscribe to the website/newsletter by releasing your email)  

Learn more about the other Didactic Units
INTELLECTUAL AND INDUSTRIAL PROPERTY RIGHTS – LIMITATION OF USE
© Copyright Reserved – This Educational Unit and the related editorial content conveyed are the subject of intellectual and industrial property of Circularity Srl – Benefit Society and as such protected.